Description
E-Mobility - Communication, Architecture and Diagnosis | Certified by ASDC | Supported by SMEV
E-Mobility comes with zero or ultra-low tailpipe emissions of local air pollutants and much lower noise, and, by being one of the most innovative clusters for the automotive sector, can provide a major boost to the economic and industrial competitiveness, attracting investments, especially in countries.
The Electric Vehicle industry in India is far behind, with less than 1% of the total vehicle sales. Currently, Indian roads are dominated by conventional vehicles and have approximately 0.4 million electric two-wheelers and a few thousand electric cars only. The Indian EV industry has been on the back seat due to various challenges.
Also, the industry is in requirement of EV Professionals are in need of Skilled Professionals who will have knowledge in a particular domain of Electric Vehicle. Delivering E-Mobility to the masses is not only a huge investment but a significant operational undertaking. As OEMs, suppliers and emerging vehicle manufacturers invest billions to develop innovative electric vehicles and optimize development and production processes, they are looking for a strategic partner to help realize their vision.
The E-Mobility course is a fully online mode, with live lectures and doubt clearing sessions and it includes 10 modules for the 60+ learning hour. E-Mobility course includes 20 assignments in total and it also includes assessments after completion of each module, based on which you will be provided with a global certificate.


Who can attend?
-Working Professionals / Engineers, who are looking to upskill themselves.
-Acadmission ( Professor / Assistant Professor / Associate Professor / Lecturer ).
-Fresh Graduates, who is looking for jobs in EV / Automotive Sector.
-Entrepreneurs who are looking to set up their industry or startup related to EV.
PROGRAM OVERVIEW-
| | |
| --- | --- |
| Duration | 6 Months Online  |
| Number of Subjects | 5 |
| Online Study | 5 Subjects (170 hours) |
| Projects | 3 Major Projects |
| Case Study | 20+ case study |
| Research Paper Publication | 1 Research Papers (free of cost) |
| Assessments | 10 Assessments |


CASE STUDY -
BMS Architecture for EV
BMS Architecture types used for 2-Wheeler and 4-Wheeler operation and how the communication and data gathering is different in both cases.
HEV Architecture 

Various hybrid vehicle architecture and their significance with respect to the market demands. Comparison study of BMW i8, BMW i3, Toyota Prius and Hyundai Nixon to understand the suitable source of energy as well as a brief look into the F1 Hybrid Setup and how it has revolutionized the hybrid powertrain.
Case Study on Charging vs Swapping Technology
Charging or battery swapping of them are complementary to each other. This case study will talk about the various parametric comparisons supported by facts and figures to show the difference between both modes.
PROJECTS -
Powertrain Efficiency of an EV
For a given electric vehicle create a mathematical model in order to simulate the optimal efficiency of the system. Calculate and modify for optimal efficiency or Wh/km energy consumption of the powertrain system.
Battery Pack Management and Data Gathering
For a given performance criteria and charge and discharge cycle/ temperature profile of the battery pack choose a suitable management strategy for the system, and create the communication model for BMS with other components and data gathering system.
Vehicle Control Unit and Communication
Perform a complete simulation of vehicle control unit/ electronic control unit - for communication between high voltage components and loop. This is a model-based simulation to understand the complete data gathering and communication system for an EV at the vehicular level.


PROGRAM SCHEDULE:
| | |
| --- | --- |
| 08 to 20-Sep-2021 | Application Open for Batch 1  |
| 25-Sep-21 | Orientation  Day |
| 01 Oct 2021 to 28 Feb 2022 | Online Classes + Mentorship |
| 05-Mar-22 | Exam will be conducted by ASDC |


PAYMENTS OFFERS -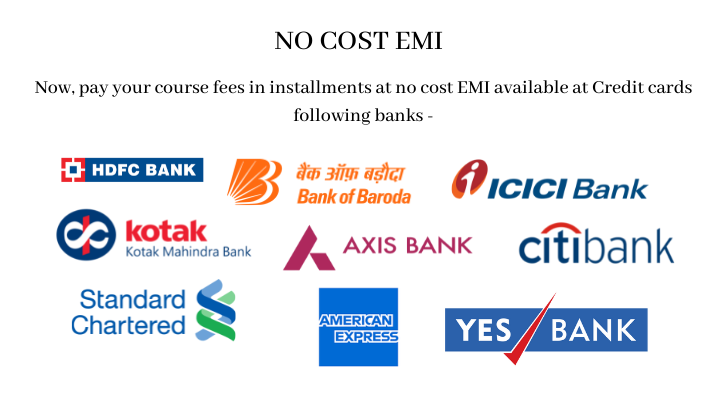 CERTIFICATION-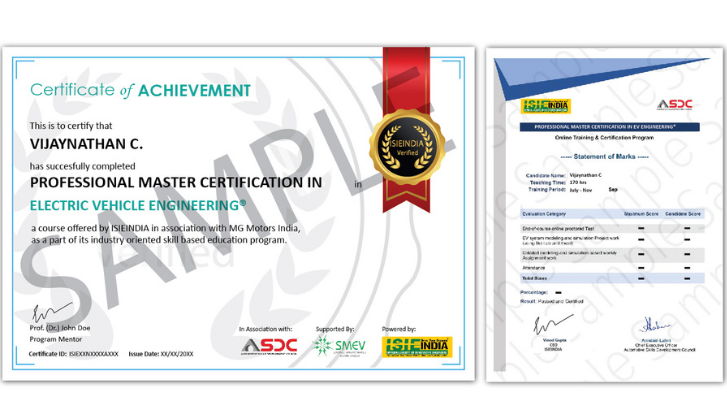 JOB ROLES -


| | | |
| --- | --- | --- |
| Powertrain | Power Unit | Vehicle Design |
| Motor Structural Design Engineer | Battery Pack Design Engineer | BIW Engineer |
| Motor Control Systems Designer | Battery Test Engineer | Design Engineer |
| Control Systems Designer | Battery Packaging Engineer | CAE Expert |
| Power Electronics Hardware | Battery Management | Product Development |
| Engineer | Engineer | Engineer |
| Hardware Design Engineer | BMS Software Developer | Vehicle Integration Engineer |
| Motor Testing Engineer | Thermal Management Systems Engineer - Battery Pack | Vehicle Homologation and Testing Engineer |
| System Test Engineer | | |


Program outcomes
EV Industry Prospects

Electric Vehicle evolution with time, EV market study and policies.

Various EV Architecture based on application.

Calculation for powertrain component selection.

Motor types available and selection based on performance criteria

Motor Design Parameters and Simulation, Energy Consumption of Motor

Types of cells based on chemistry and shape.

Cell parameters and data sheet, Cell Characteristics for charge and discharge

Range calculation, Cell Sorting

Lithium Cell Charge and Discharge cycle

Battery safety parameters, Battery functional and constructional safety

Cell Balancing methods

Thermal Simulation of Battery Pack, Battery Cooling Methods

BMS Architecture, BMS Communication

EV Charging Charging methods

Learning about charging protocols

Charging Test Criteria and Regulations

V2G and G2V Technology

AI and ML in EV

Embedded Systems in EV
---
Requirements
Mobile/Laptop/Tablet with good internet connectivity
About instructor
Name : Naveen Kumar
Reviews : 0 Reviews
Student : 2 Students
Courses : 4 Courses
Latest courses
Get latest 10 course.
---